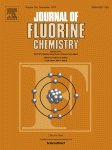 Author(s): VENTURINI F., SANSOTERA M., NAVARRINI W.
Source: Journal of Fluorine Chemistry
Volume: 155 Pages: 2-20
DOI: 10.1016/j.jfluchem.2013.07.005 (2013)
ABSTRACT:
Recent findings in the synthesis of perfluoro-hypofluorites, their reactivity and their use in the preparation of important perfluoro monomers are herein summarized and analyzed. The experimental conditions to induce free radical or electrophilic reactivity as well as their use as initiation system in the oxidation and oxypolimerization of fluorinated olefins are also presented. Particular emphasis is dedicated to safety issues since organic hypofluorites have the tendency to self-decompose forming gaseous compounds.The hypofluorites considered in this review are: CF3OF, CF2(OF)2, CF3CF2OCF2OF, CF3OCF2CF2OCF2OF, CF3O(CF2O)nCF2OF, CF3OCF2CF2OF, (CF3)2CFOF (CF3)3COF, FS(O)2CF2CF2OF, CF3OCF2CF2CF2OF, cyclo-(CF2OCF2OCF)-CF2OF, (CF3)2N-CF2OF.
http://www.sciencedirect.com/science/article/pii/S0022113913002601