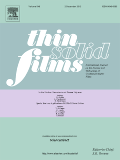 Author(s): PERSICO F., SANSOTERA M., DIAMANTI M. V., MAGAGNIN L., VENTURINI F., NAVARRINI W.
Source: THIN SOLID FILMS
Volume: 545 Pages: 210-216
DOI:10.1016/j.tsf.2013.08.004
ABSTRACT:
The photocatalytic activity promoted by anodized titanium surfaces coated with different amorphous perfluoropolymers was evaluated. A copolymer between tetrafluoroethylene and perfluoro-4-trifluoromethoxy-1,3-dioxole and two perfluoropolyethers containing ammonium phosphate and triethoxysilane functionalities, respectively, were tested as coating materials. These coatings revealed good adhesion to the anodized titanium substrate and conferred to it both hydrophobicity and oleophobicity. The photocatalytic activity of the coating on anodized titanium was evaluated by monitoring the degradation of stearic acid via Infrared spectroscopy. The degradation rate of stearic acid was reduced but not set to zero by the presence of the fluorinated coatings, leading to the development of advanced functional coatings. The morphological variations of the coatings as a result of photocatalysis were also determined by atomic force microscopy.
http://www.sciencedirect.com/science/article/pii/S0040609013012960#