Author(s): Sansotera, Maurizio; Bianchi, Claudia L.; Lecardi, Giorgio; Marchionni, Giuseppe; Metrangolo, Pierangelo; Resnati, Giuseppe; Navarrini, Walter.
Source: CHEMISTRY OF MATERIALS
Volume: 21 Issue: 19 Pages: 4498-4504
DOI: 10.1021/cm901271q
Published: OCT 13 2009
ABSTRACT:
Perfluorocarbon chains, that is, perfluoroethyl, CF(3)CF(2)-, pernuoro-n-propyl, CF(3)CF(2)CF(2)-, perfluoro-iso-propyl, (CF(3))(2)CF-, and perfluoropolyether (PFPE) residues, were covalently bonded on the surface of a carbon black using perfluorodiacyl and PFPE peroxides. Thermal decomposition of the fluorinated peroxides allows the covalent linkage of fluorinated radicals to the polycyclic aromatic structure of the carbon black. Contact angle measurements in agreement with XPS data revealed a gradual enhancement of the water repellence with increasing fluorine content on the surface. When perfluoroalkyl chains were bonded to the carbon black the morphology and the surface areas of the modified carbonaceous materials were mostly retained as shown by BET and SEM analyses.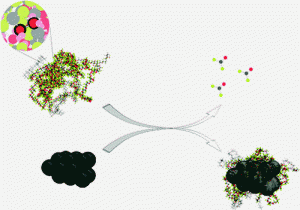 http://pubs.acs.org/doi/abs/10.1021/cm901271q