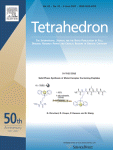 Author(s): Gattuso, Giuseppe; Pappalardo, Andrea; Parisi, Melchiorre F.; Pisagatti, Ilenia; Crea, Francesco; Liantonio, Rosalba; Metrangolo, Pierangelo; Navarrini, Walter; Resnati, Giuseppe; Pilati, Tullio; Pappalardo, Sebastiano.
Source: TETRAHEDRON
Volume: 63 Issue: 23 Pages: 4951-4958
DOI: 10.1016/j.tet.2007.03.136
Published: JUN 4 2007
ABSTRACT:
A mixture of partial cone 2,4-bis[(2-pyridylmethyl)oxy]-(1,3)-p-tert-butylcalix[4]crown-6, hexadecafluoro-1,8-diiodooctane and CsI in EtOH produces a crystalline 'supramolecular salt'. In the solid state the caesium ion of the 'supercation' is encapsulated inside the cavity created by the crown ether loop, the picolyl and the inverted phenyl moieties, while the two iodide ions of the 'superanion' form a discrete five-component aggregate held together by co-existing hydrogen and halogen bonds. Similar calix/CsI/iodofluorocarbon adducts are shown to exist also in solution. In a prototypical study, a combination of this calixcrown and liquid octafluoro-1,4-diiodobutane acts as an effective 'binary host' system for the selective extraction of CsI from aqueous to fluorous phase.
http://www.sciencedirect.com/science/article/pii/S0040402007005698