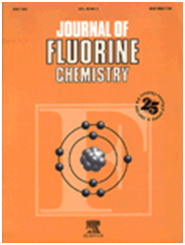 Author(s): Galimberti, M; Fontana, G; Resnati, G; Navarrini, W.
Source: JOURNAL OF FLUORINE CHEMISTRY
Volume: 126 Issue: 11-12 Pages: 1578-1586
DOI: 10.1016/j.jfluchem.2005.09.005 Published: DEC 2005
ABSTRACT:
Alkyl fluoroformates RHOC(O)F are a new family of excellent alkylating agents. Perfluoroacyl fluorides, selected perfluoroketones and fluoroolefins can be alkylated to hydrofluoroethers R-F-O-R-H and hydrofluoroalkanes R-F-R-H, respectively. Potassium fluoride and cesium fluorides catalysts in glymes at 50-100 degrees C are the preferred experimental conditions.
http://www.sciencedirect.com/science/article/pii/S0022113905002551