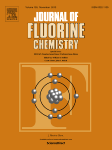 Author(s): Navarrini, W; Corti, S.
Source: JOURNAL OF FLUORINE CHEMISTRY
Volume: 125 Issue: 2 Pages: 189-197
DOI: 10.1016/j.jfluchem.2003.07.011 Published: FEB 2 2004
ABSTRACT:
In the present work we give an overview of the CF2(OF)(2) radical reactivity and report the synthesis of new perfluorovinylethers. CF2=CF-OCF2OCF2CF3 and CF2=CF-OCF2OCF2CF2OCF3 are prepared in a semi-continuous methodology starting from CF2(OF)(2). These highly reactive vinylethers are characterized by the OCF2O group directly bonded to the insaturation. For this reason they are excellent candidates for the preparation of very low T-g perfluororubbers.
http://www.sciencedirect.com/science/article/pii/S0022113903002732