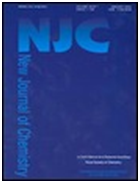 Author(s): Navarrini, W; Metrangolo, P; Pilati, T; Resnati, G.
Source: NEW JOURNAL OF CHEMISTRY
Volume: 24 Issue: 10 Pages: 777-780
DOI: 10.1039/b002247k Published: 2000
ABSTRACT:
Both the nitrogen atoms of Kryptofix(R) 2.2. 1 act as electron-donors to the iodine atoms of alpha,omega-diiodoperfluoroalkanes 2a,b giving rise to infinite 1D chains 3a,b as white crystalline solids which are stable in air at room temperature. The structural features of these non-covalent co-polymers have been studied using various techniques (IR, H-1 NMR, F-19 NMR, X-ray diffraction) and it has been established that when Kryptofix 2.2. is halogen bonded to iodides 2, it adopts the same conformation as when in the pure form, namely the exo-exo topology. The co-existence of halogen-bonding and hydrogen-bonding in supramolecular architectures 3 suggests pre-organisation of the interacting partners as a new strategy in the rational design of divergent self-assembly processes.
http://pubs.rsc.org/en/Content/ArticleLanding/2000/NJ/b002247k#!divAbstract