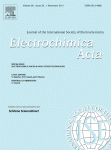 Author(s): Zhao, F.; Franz, S.; Vicenzo, A.; Cavallotti, P. L.; Sansotera, M.; Navarrini, W.
Source: ELECTROCHIMICA ACTA Volume: 56 Issue: 26 Special Issue: SI Pages: 9644-9651
DOI: 10.1016/j.electacta.2011.06.033 Published: NOV 1 2011
ABSTRACT:
The preparation of cobalt-perfluoropolyether (PFPE) composite coating with dry lubrication capability is addressed. An original process scheme is proposed involving the electrodeposition of a nanostructured columnar cobalt layer, a grain boundary etching post-deposition treatment of the layer and its further processing by vacuum impregnation with PFPE. The influence of the operating parameters on deposition kinetics and crystal structure of the cobalt layer was investigated in detail, with the objective of identifying the optimum deposition conditions for the growth of a nanocolumnar cobalt film. In particular, the main operating conditions, namely deposition temperature and current density, were analyzed by studying their effect on deposits microstructure and texture. Control of the growth stability of the nanocolumnar structure was achieved in the presence of a suitable concentration of a surfactant. The subsequent steps of grain boundary etching and impregnation with PFPE were successfully implemented completing the planned process scheme. Friction force measurements provided evidence validating the functionality of the Co-PFPE nanocomposite.
http://www.sciencedirect.com/science/article/pii/S0013468611009194